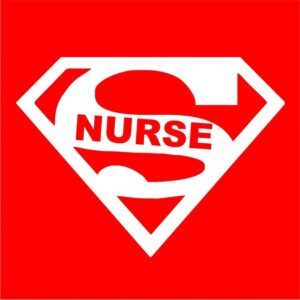 I've heard people make the claim that nurses are superhuman. While it's meant to be an empowering compliment, I think it actually does more harm than good.
I believe it removes the human factor from our role. It cultivates that mentality that nurses can't make mistakes simply because they are nurses. That we can do anything in any situation.
I mean… You wouldn't be able to get through nursing school if you messed up, right?
Wrong.
Turns out – nurses are human too. (Surprise, haha!) Just like anyone else, we make mistakes. Everyone does. Getting through nursing school, med school, pharmacy school, or physical therapy school, etc. doesn't mean all of a sudden you're above mistakes. The stakes are just higher.
Naturally, we don't want to mess up and harm someone in the process. It makes sense. However, in this pursuit of avoiding error, we begin to set the bar at perfectionism. Somehow being perfect becomes the lowest acceptable standard.
Achieving this is impossible. When we inevitably mess up, either an identity crisis ensues, or we try to cover up our mistake because we couldn't bare the thought of being one of "those nurses" who does something wrong. Nurses hide their mistakes out of fear of discipline and facing that realization that they are not the perfect nurse they thought they were.
It's a pretty tough place to be, especially if you've made it a while without a mistake or if you've been hard on someone else who has.
Not only do patients suffer from mistakes themselves, but also from not reporting them. Processes can't be perfected. Others may make the same mistakes but because no one is talking about it, the people in a position to address it are completely unaware.
A perfect track record does not mean someone is a successful nurse, much like growing in age does not mean someone has matured.
Honest nurse > "Perfect" nurse
You are not your mistakes. Mistakes are a byproduct of the learning process and being human. What matters more than the mistake itself is how you handle in the moment and how you view yourself going forward. Will you allow it to empower you to become better, or will it cripple you and break you down?
The beautiful thing is that we get to choose our response. We can say no to the negative thoughts that come up, allow the waves of emotions in the moment to calm, and intentionally choose how this situation will shape our character. We just need to own the narrative.
All the best,
Kati
Shared From Kati Fleber's Blog FreshRN.com